In one of my old post, I've talked to you about the Red Bull Simulator, you can check if you missed the article here, and how important is been that tool for the rise to the success for the Infiniti Red Bull Racing, but it's a tool that every team, or to be correct almost any Formula one teams has, and of course they couldn't have be outdone; we're talking of course about Mclaren, one of the most successful team in the history of Formula one.
There's no need to introduce you what Mclaren has achieved as a formula one team, and who they're, and I'm not going to tell you their history. We're here to have a look inside they're simulator, which they don't allows many people to look at it. So let's get in the woking factory in UK and have a look. Just in front of the simulator room you can read this: "Simulation Strictly No Admittance Authorised Personnel Only"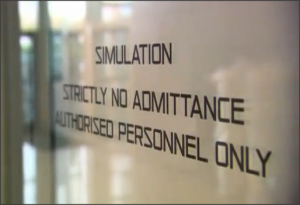 Once inside the Mclaren simulator you feel like in the NASA control room. A row of engeneers each one with a desktop computer looking at datas on their monitors. In front of them there's the big wraped around screen 180° on a mobile platform a real Mclaren F1 cockpit. They develop their Formula one cars, and their Mclaren street models. As far as I know and read Mclaren has the most advanced simulator of all teams.
Gary Paffet, their test driver says: "Certainly, inside the tub you get very similar feedback to what you feel in the real car". Jonathan Neale adds: "What separates the $2000 home installation and the multi-million dollar F1 simulator is the engineering and the science models that lie below. We do want to know what is happening with the tire contact patch, what the forces are, fine tune the engine modes, as they affect the downforce. We do want to know where the downforce is working when you have steer angle, roll and yaw".
"We have committed", Neale continues, "thousands of man hours in software models, tire matrices, engine modes in order to give the testing driver the best feeling about the car".
Chris Goodwin, chief test driver, admits that the simulator has been irreplaceable and essential part of their projects, which also helped Mclaren road cars division to integrate lots of knowledge in production.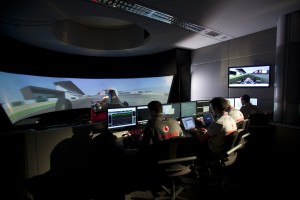 The Mclaren simulator uses ATLAS software for telemetry which is the same used by Red Bull in their Simulator. ATLAS is a software package which is used to obtain, display and analyse data from control systems such as those used within motorsport and automotive applications. You can watch a video here inside the Mclaren simulator.
Recently just before the British Grand Prix in Silverstone, after many fans asked, as he said, Fernando Alonso shared a clip on his youtube channel where he shows himself driving around the Silverstone circuit in the Mclaren Simulator. You can watch it here.
Click LIKE if you liked this post share it on Facebook or Twitter, check my facebook page here, subscribe to my youtube channel here, leave a comment if you want ! See you nest week just before Spa Francorshamps and the return of the Formula one !