Welcome back Formula one, and welcome back beautiful Spa Francorshamps. Formula one is back after the summer break, and we're going to experience the second half of this amazing F1 season 2015. The Belgian Grand Prix is one of the most loved race track by everybody. Specially the drivers of course. Such a beautiful and historic circuit.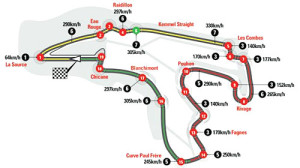 Run on narrow public roads, the original Spa layout was an amazing 14.9 km long and notoriously dangerous. Spa Francorshamps did not return to the calendar until 1983 and then in drastically revised form, with lap distance cut to just under seven kilometres. Somehow, though, the circuit's magic was retained. Around two thirds of the lap used the original layout and the legendary Eau Rouge corner remained intact. Only the new Bus Stop chicane on the run down to La Source drew criticism.
More than twenty years on Spa remains the longest circuit on the calendar. Its mix of long straights and challenging fast corners, means that most drivers still rank it among their favourite tracks. Unpredictable weather make this race also hard on strategy.
The feeling riding the Eau Rouge flat out oh my godness….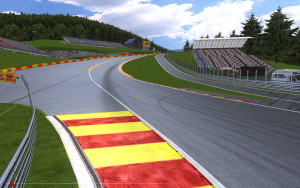 Pirelli choice is Soft (yellow) and Medium (white). We have also to remember that this will be the first race of this season, but also the first in years, in which the drivers will not have all the electronic assists during the start. I think this will make more unpredictable. Could this make a difference for the Mercedes dominance? Let's see.
For now here we're in the simulator for an hotlap in the beautiful and challenging Spa Francorshamps in Belgium for the Belgian Grand Prix next Saturday, watch it here ! As always feel free to like and share this post if you want, subscribe to my youtube channel, leave a comment or yell at me. See you in the next episode.
Circuit information
| | |
| --- | --- |
| Lap data | |
| Lap length | 7.004km (4.352 miles) |
| Race laps | 44 |
| Race distance | 308.052km (191.415 miles) |
| Pole position | Right-hand side of the track |
| Lap record* | 1'47.263 (235.071 kph) by Sebastian Vettel, 2009 |
| Fastest lap | 1'44.503 (241.279 kph) by Jarno Trulli, 2009 |
| Maximum speed | 324kph (201.324 mph) |
| DRS zone/s (race) | Pit straight and Kemmel straight |
| Distance from grid to turn one | 265m |
| Car performance | |
| Full throttle | 70% |
| Longest flat-out section | 2015m |
| Downforce level | Medium |
| Gear changes per lap | 45 |
| Fuel use per lap | 2.2kg |
| Time penalty per lap of fuel | 0.088s |