Hello maniacs in my last blog post I said see you in Sochi and I forgot that Suzuka was first. So here we are in Suzuka one year after for the 14th race of the F1 2015 season, I said one year after because we all remember what a tragic and controversial  2014 Gp here has been. 2015 Suzuka Gp remembering Julies Bianchi. So here we are for the last part of the championship no break from last race directly in suzuka in this beaufitul circuit, built as a test track by Honda. So Mclaren Honda home race this year after Honda's comeback in F1 and with Mclaren again after the glorious years in the 80's with Senna and Prost.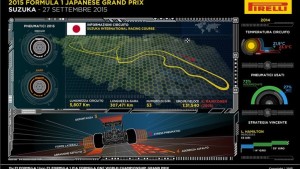 Let's talk about this beautiful circuit then. First Pirelli choice for this one it's Medium (white) and Hard (orange) compounds. One Drs zone on the main straight as last year.
The circuit has been modified four times:
In 1983 a chicane was put at the last curve to slow the cars into the pit straight and the Degner curve was made into two corners instead of one long curve; the circuit was also made considerably safer in 1983 by adding more crash barriers, more run-off areas and removing straw bales leading into vegetation;
In 2002, the chicane was slightly modified, 130R (marked as 15 on the diagram) was also modified and some of the Snake curves were made a bit straighter and faster;
In 2003, the chicane was made slightly faster and closer to the 130R.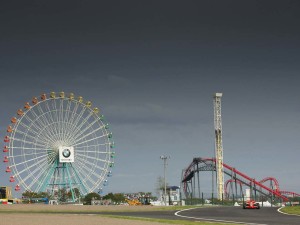 The circuit can be used in five configurations; the car full circuit, the motorcycle full circuit, the "Suzuka East," "Suzuka West car," and "Suzuka West motorcycle" configuration. The "East" portion of the course consists of the pit straight to the first half of the Dunlop curve (turn 7), before leading back to the pit straight via a tight right-hander. The "West" course is made up of the other part of the full circuit, including the crossover bridge; the straight leading to the overpass is used for the start/finish line and the grid. The chicane between the hairpin and 200R separates the West and full course sections between car and motorcycles.
Pretty technical circuit for the drivers, fun to drive an old school circuit evergreen. Medium to High downforce level required. As always let's take a look in the simulator for a lap around Suzuka, watch it here !  Thumbs up the video if you like, feel free to comment, leave a like in my facebook page follow me on twitter and see you next time in Sochi Russia !