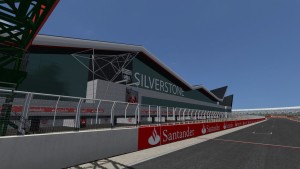 Hello Maniacs ! Ready for the 9th race of the season F1 2015 at the beautiful Silverstone circuit. After the last race at The Red Bull Ring in Austria, the leading of the championship by Lewis is now just 10 points so…be ready for some FIRE ! This week as I said we're going to Silverstone Uk, and old Military airport, converted in race track from the 50's.
The Silverstone circuit is a track loved by the driver, I think I've never heard of anyone that doesen't love it. Someone maybe prefer the old layout but to me it's a very funny and fast layout to drive.  In 2010 the track was extended of 760 mt, and just before 2011 a new pit building was built, and changed the start finish line between Club corner and Abbey corner. Having lot of high speed corners make this track a medium to high downforce set up configuration.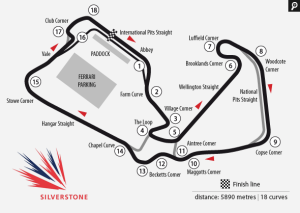 Almost flat out, the right-hander of Abbey leads immediately into the left-hander of Farm before cars heavily brake into the second gear, right-handed turn 3; Village corner. The even slower left-hander of The Loop comes immediately after, and leads into the flat-out left-hander of Aintree, before cars head down the DRS zone of the Wellington Straight; designed in 2010 to promote overtaking at the track. Turn 6, the left hander of Brooklands, is taken by drivers in second gear (third with the actual cars maybe) and leads immediately into Luffield, another second gear curve; a right-hand hairpin. The right-handed kink of Woodcote leads cars down the old pit straight, before the difficult sixth gear right-hander of Copse. Then, the equally tricky complex of Maggotts, Becketts and Chapel – a left-right-left-right-left complex lead cars down the Hangar Straight with the fifth gear right-hander of Stowe lurking at the end. The fifteenth turn of the track, Stowe, has a minimum speed of 125 mph and precedes a short straight, named Vale, which leads cars downhill towards the Club complex. Heavy braking is required for the left-hander of turn 16, and understeer can be an issue for the next right-handers of turns 17 and 18, as cars tentatively accelerate round to the start-finish straight.
Pirelli choose Medium and Hard compound. Weather should be dry and good. Now let's get in the simulator for a lap on the Silverstone circuit. Watch it here. Feel free to comment what's your favourite part of the track?
see you in the next episode.