Monza Italy, the Tifosi are going nuts for the Italian Grand Prix ! It's September and Formula One it's ready for the last European race: In Monza called the Temple of speed.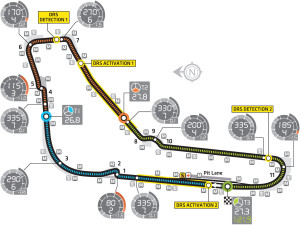 Monza it's for sure the fastest track in the calendar, being all straights for most of the parts, few chicanes and the last curve called the parabolica (which I hate the fact that has been asphalted on the outside). The major features of the main Grand Prix track include the Curva Grande, the Curva di Lesmo, the Variante Ascari and the Curva Parabolica. The high speed curve, Curva Grande, is located after the Variante del Rettifilo which is located at the end of the front straight or Rettifilo Tribune, and is usually taken flat out by Formula One cars.Cars race very low downforce level, it's all about engine and breaking stability and traction. Top Speed estimated in the main straight with DRS is 370km/h.
Two Drs zones and if Pirelli don't change their minds, after what happened in Spa to Rosberg and Vettel, the choice it's Soft and Medium. Despite last year that was Medium/ Hard.
As always I leave you with a lap in the top secret simulator. You can watch it here ! Feel free to subscribe if you like it, share it, and see you in Singapore !
| | |
| --- | --- |
| Lap data | |
| Lap length | 5.793km (3.6 miles) |
| Race laps | 53 |
| Race distance | 306.72km (190.587 miles) |
| Pole position | Left-hand side of the track |
| Lap record* | 1'21.046 (257.321 kph) by Rubens Barrichello, 2004 |
| Fastest lap | 1'19.525 (262.242 kph) by Juan Pablo Montoya, 2004 |
| Maximum speed | 337kph (209.402 mph) |
| DRS zone/s (race) | Start/finish straight and straight to Ascari |
| Distance from grid to turn one | 380m |
| Car performance | |
| Full throttle | 76% |
| Longest flat-out section | 1520m |
| Downforce level | Low |
| Gear changes per lap | 46 |
| Fuel use per lap | 1.9kg |
| Time penalty per lap of fuel | 0.057s |