Here we are guys in my F1 simulator for a lap around the brand new Sochi street circuit.
The 5.848-kilometre circuit will be the third-longest circuit on the Formula One calendar, behind Spa-Francorchamps in Belgium and Silverstone in Great Britain. The circuit has been built around the Sochi Olympic Park, a collection of venues for the 2014 Winter Olympics.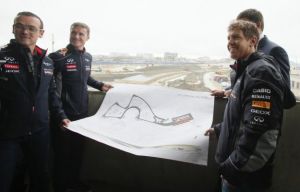 The circuit, designed by German architect Hermann Tilke, reminds a bit of the Valencia street circuits.
After the first two sessions of FP most of the drivers were really enthusiastic about the track. The average speed will be around 210km/h, with top speeds of around 320km/h. Being a new track the grip level would be less than normal, fuel consumption, and tyre degradation will be a key part. We have seen turn 3 flat out during qualy today , but you know new tyres less fule then in the race so will be a good spot to see during the race.
I've worked on the simulator all week to learn the track, adjust a setup, and make time laps.
It's an high-downforce configuration but since there are 2 high speed straight you need obviously also good speed.
So here we are enjoy a lap around the Sochi Street Circuit with the F1 Turbo V6 Simulator.
Feel free to comment, leave a message , let me know what do you think.