The Scuderia Ferrari F1 announced it had replaced it's outdated internal driving simulator. Developed by the English ( ISI) rFpro, a company who don't need presentations in virtual racing simulators.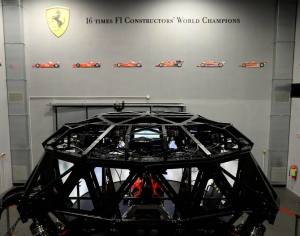 The adjustment was made courageously during the season, to try not to create delays in the research of the new 666, the 2015 James Allison's car. Chris Hoyle, technical manager of rFpro, admitted: "The decision to change the operating software during the championship highlights what is the extent of the improvement that we guarantee with the new software."
A big improvment has been achieved in the playback level of the track, called TerrainServer: "The circuit model accurately captures every uneven road surfaces and ensures that our model of vehicle can have the same road surface of the real car – tells Giacomo Tortora, manager of vehicle dynamics Ferrari – improving the driving experience of the driver and the collection of more reliable data. In addition, the new software reduces the time to upgrade to one frame of latency compared to our model of vehicle and projection. "
The element that has convinced Ferrari to make this choice was the speed of the system: "The industry's Motorsport is known for being at the front of new technologies in the world"
The rFpro simulator software is also used by the McLaren simulator F1 present in Woking which has been known to be one of the most techonologically advanced.
Here is alap around Monaco with rFpro software: