After the last race in Abu Dhabi 2016, all the work immediately moved on the F1 2017 Vehicle Model. The F1 2017 Simulator model is now running, and I'm getting updates almost everyday, and I'm getting reliable data for have the best accurate physics.
F1 2017 Simulator 100% reliable data Physics
Most of the big teams are running the new F1 2017 Simulator Model since months now in their simulators, with of course, not a really complete amount of datas available yet. Let's say a prediction of how the new car would be. They tested already the new Pirelli tyres, which are bigger this year, but with the 2015 cars with some amount of downforce to simulate some of the aero load that they will face next year.
And Pirelli itself has given mathematical models to the teams to simulate the new tyres. You can trust the grip, you feel it on the exit of the corners getting very early on the throttle pedal. I'm actually testing on the Barcelona Circuit that will be, as always, the track where the F1 2017 winter tests will take place, in less that two months.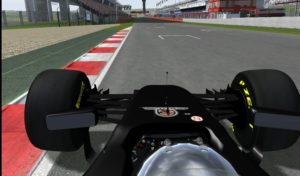 rFactor F1 2017 Simulator video on youtube
Few days ago I've uploaded the first video of the F1 2017 Simulator series on my Facebook page and on my youtube channel.
You can clearly see the car behavior specially on the corner entrance, on the braking, and on the corners exit, where you see how fast I get on the throttle pedal and open the gas, with a brutal acceleration. Don't forget that this year these F1 2017 Cars will reach 1000hp in engine developing. The video is a Tv Cam Pro shooting, but if you like I can upload an onboard video so you can better see the new F1 2017 Test car on the simulator. Just let me know here, or on my facebook page or on my youtube channel on the comments.
Actually I would like to show you different settings of the car on different circuits, to show you how accurate the physics are, and how well implemented on rFactor.
So follow me on facebook here
Subscribe to my Youtube channel for updates
And don't forget to tell me what do you think and if you like the job I'm doing !
KEEP PUSHING !