Interlagos Brasil for many times has been crucial for the championship, but not this time. With the double points in the last round in Abu Dhabi, mathematically speaking, we can't close the case in advance, so we've already booked our place to watch the final race where the title will be decided. Anyway this next race in Brasil, could be important and give some boost in favor to one or to the other of the two pretenders for the world title Hamilton and Rosberg. Especially if as expected, the rain will be a costant presence for all weekend.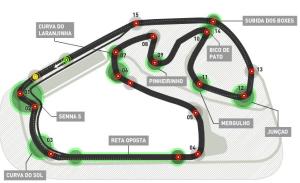 From a technical point of view the Interlagos circuit dedicated to Carlos Pace, measure 4.309 meters, counterclockwise,and among its features includes the altitude, being approximately 800 meters above sea level. Normally the differences in air density due to the height (and high ambient temperature) are easily recovered by the use of the turbocharger, but this year we add two complications: the presence of MGU–H, that is, the recovery of energy from the turbine, and the stress accumulated from engines rationing. For those who did not accept the penalty resulting in the use of the "sixth component" of the power unit, the considerable streaight between Junçao and the S Senna will represent a commitment perhaps "deadly" against the tired engines. As well  this situation will be too heavy on the turbine, which will have to provide power to the ERS which could not rely too much on the kinetic component, because of the breaking zones so spaced.
Two DRS zone: one is in the finish line straight, the other one between turn 3 and 4 so after the "do sol" curve. Pirelli changed the tyres compund after listening suggestions from the drivers so, switched from Medium and Hard to Soft and Medium, even if the weather situation will probably use more frequent rain blue and green intermediate. At Interlagos not underestimate the stress induced on the tires – but also on the drivers! – The presence of fast corners and alternating curves makes only a few occasions when the steering wheel is straight.