Hello guys good day to everyone.
Yesterday was the race day for F1 season 2014 in Sochi Russia for the Grand Prix. Honestly a very boring race. Not many overtakes, fights…or any particular or spectacular moment. The only really big moment was at the start, when all the drivers observed a minute silent for their collegue Jules Bianchi, involved in a terrible crash last weekend in Suzuka. Now fighting for his life. I hope you'll be back ASAP Jules.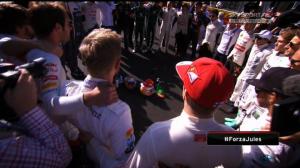 Hamilton started 1st and ended up 1st very easily I would say. His teammate Nico Rosberg and also his first competitor made a mistake after the start on turn 2 locking up and forced to pit right after. He had then to put all of his strenghts and skill to go back in 2nd position.
Just 17 points divide Lewis from Nico now, with just 3 races left, counting that this year the last race, which will be in Abu Dhabi, will count double points. Mean while Mercedes Petronas won the title Constructor Championship for 2014. Congratulations to them. Well deserved.
Also the drivers market is still open. Fernando Alonso not confirmed yet where he would be next year, rumors said that he has already signed with Honda (McLaren) and Vettel who split from Red Bull Racing, would go to Ferrari to his best mate Kimi Raikkonen.
Let's see in the next weeks what will happens.
Next Race will be in Austin Tx. great track on calendar since 2012. The Circuit of Americas.
I want to know from you, which driver will be the champion this year.
Feel free to comment !
Bye for now.