It's been four days already since the last GP in Austin Tx COTA, that we're already focusing on the next one which will take place on the historic Carlos Pace circuit, better known as Interlagos, in Brazil. What we've seen in US is a very clear Hamilton's domination.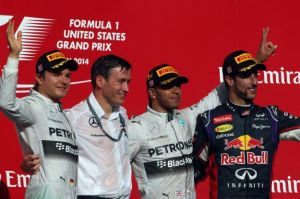 He passed Rosberg very easily and from there he simply menaged the race and so the victory, getting 24 points ahead of his teammate. We've seen a good race with pretty good overtakes, but with 2 teams less than usual. Catheram and Marussia which maybe we'll see them again in the last GP in Abu Dhabi, where we know yet, we'll celebrate the driver championship. Everything now is postponed there. So we're near the end of this championship the battle is now officially between two driver: Lewis Hamilton and Nico Rosberg. Let's don't forget the double points in the last race….
What you think will happen? As a fan what you think this double points will influence this championship?