Here we are, heading the last race of the calendar in Abu Dhabi. The championship will be decided at this race and is very good for this sports keep the interest till the last race. This year also this race will give double points so many things can happen in the final Constructor and Driver Championship. The final battle will be between Hamilton and Rosberg.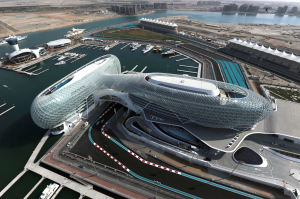 The Yas Marina track is on calendar since 2009, and is one, if not the one, most expensive F1 race circuit ever built. No expense was spared for the construction of the facility built on a man-made island.On of the most distinctive feature is the Yas Viceroy Abu Dhabi Hotel which sits atop the track, and bridges it between turns 18 and 19. Another unique feature is the pit lane exits, which passes underneath the circuit by means of a tunnel.The top-class nature of its facilities, including the luxury of air-conditioned garages, makes it popular with paddock inhabitants. And the unique spectacle of sun setting during the races makes for a picturesque venue.Maybe for someone outside the track this could appear as a very flowing fast track but actually it's not. The setup drivers and mechanic will look for is a medium downforce setup perfectly balance becuse of the variety of corners and long straights, in order to protect tires against excessive wear. The last sector it's very technical and tricky lot of 90° corners easy to get them wrong. Pirelli choose super soft tyres and soft tyres.
Lap length 5.554km (3.451 miles)
Race laps 55
DRS zone/s (race) Two straights
3 ideal spots for overtaking
Now take your place and be ready to come onboard with me in the F1 simulator for an Hotlap in the Yas Marina circuit.
As always feel free to comment and if you want subscribe to my youtube chanel.